Bitch or bully? It can be a fine line
Part I of 5 in my series on bullying by women in the work place. Starting with Bitch or Bully?
I am exploring a number of complex and often confusingly over lapping issues. I have consulted a global network of HR professionals, lawyers, bullying specialists, psychologists as well as executive coaches and leaders. I have also heard from " targets"  themselves.
A few weeks ago I was contacted by a client. I'll call her Jane. She was struggling to have a successful and equable working relationship with her new boss of 9 months. Her husband thought she needed to "step up , toughen up and be more assertive". Whatever was going on was impacting her negatively. She felt she was wearing the departmental scarlet letter, sleeping badly, starting to dread going into work and feeling distanced from her colleagues.
Not only did she feel that she was being singled out for exceptional treatment, but that she was being openly bullied. What had surprised Jane the most in the whole process was that her new boss was a woman.
Double bind
We also have to factor in that we have stereotyped notions of how women are expected to behave that puts women in a double bind. They are supposed to be more passive and collaborative and when they do step up and become assertive they are accused of being bullies.  We are far more tolerant of dynamic behaviour from men and don't receive it as being negative, but as "leader-like."
A can of worms
For me this opened a mental can of worms. What exactly is bullying? Did I really know? When does strong management and bitchiness cross the line into tyranny? How prevalent is the issue of bullying by women? Do we really sweep it under the carpet? Is this issue the pink elephant in our sitting rooms that we don't talk about?
In my own career I have worked in environments where I have witnessed bullying of the most appalling nature both physical and psychological, so I thought I knew what it was. In one extreme case it led to a complete nervous breakdown, in the other chronic depression leading to heavy drinking and marital breakdown. I have a family member who actually received a written death threat from a senior manager. In many of our minds it's associated with raging, verbal and physical abuse, Machiavellian sabotaging and back stabbing. I have never been in a situation where the perpetrator was a woman. So where are all those soft skills, empathy and high EQ that we are supposed to have and read about?
Jane's story she was:
regularly singled out for public criticism about her work and appearance
frequently called into bosses office at 17.20 to be given additional work with tight deadlines
 excluded from email circulation lists and meetings
the only person in the department not invited to a social event at boss' house
fobbed off when she made attempts to discuss this with her manager had been dismissed with contempt
told by the HR department  that they would only get involved if a formal complaint was made
So what is bullying really?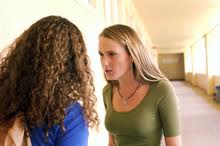 Annabel Kay of Irenicon offersthis legal input about the UK legal system "Interestingly at the moment there is no actual legal definition in terms of a statute defining it, the ACAS code and case law provide a guide (common law) – but that is it. "
Another lawyer in the US confirmed this "although harassment has a clear legal definition, bullying does not, only guidelines".
Constant humiliation
Jane Perdue suggests that "Bullying is behavioral based actions that repeatedly humiliate, intimidate, frighten, offend someone, making them feel defenseless, particularly coming from a person in position of authority or with much influence . Acts/behaviors can be overt or covert such as personal attacks or social ostracism. In my view bitchiness crosses the line when it's repeated, takes on notes of intimidation & becomes a believable threat, particularly from a woman "
Annabel goes on to add that "The real problem in dealing with bullying in the workplace is that by the time the 'victim' feels desperate enough to complain, they are in no fit state to endure the rigours of formal grievance hearings and appeals and possibly employment tribunals ."
A Poll
The New York Times says that today 70% of cases of women reporting being bullied was by other women. This seemed incredibly high and feeling loyal to the sisterhood, I decided to conduct my own poll on LinkedIn. Have you ever been bullied in the workplace by a woman? Please take a few seconds to participate and read the results to date. It will be open until the end of the April.
Within 24 hours I had over 100 responses and my mail box flooded with stories, insights and perceptions, too many to cover here on the whole issue of female bullying.
In the meantime I am going to collate all the comments and feedback. I have invited leadership specialists, HR practitioners and communication experts to contribute their views over the next few weeks. Here are just a few of your thoughts that have been tossed out to me:
If someone feels bullied – does that mean they are, or just being sensitive?
When does strong or tough management cross the line into intimidation?
Do women feel they have to act like men in en route, to leadership positions?
Do reports expect female managers to behave differently?
Why do women sabotage other women?
Are women easier to bully than men?
What should the role of HR be in dealing with issues such as this?
When does passivity become enabling?
In case you think I've forgotten about Jane, this process is ongoing.
What do you think? Workplace bitch or bully? Or are they one and the same?
Part 2: The Lipstick Jungle: Female Saboteurs 
Part 3:  The Mascara Mafia   
Part 4: The Petticoat Polemic: the role of the organisation
Part 5: Whatever happened to Jane?