One of the biggest challenges of the "now normal" is navigating the divide between doing things in person and figuring out a way to do them remotely with the same degree of success. It's important now to find remote networking workarounds to compensate for the current restrictions, especially around relationship building. This is true whether as an employee, a jobs seeker or a business owner.
The alternative is to stagnate and get left behind. It's important to COVID proof your career and  personal brand in an "officeless" workplace.
A cautious view is that this pandemic situation could go on for another year, with differing levels of restrictions across many geographies. There is no doubt I am experiencing this pandemic from a position of privilege. I have Wi-Fi and outside space. I am healthy and my business is not bankrupt. So far. I am grateful. As an extravert I am missing human contact. I was threatening to hug my postman back in May, so he now leaves my deliveries inside the door and signs them for me.
But this is how it's going to be in the foreseeable future. Work and the workplace have changed – but have we?
Relationships are at the heart of career success. What can we do to build and cement relationships in the time of COVID when so many of us are isolated?
Remote networking tips
1. Embrace the reality
Many of us have been resistant thinking this will pass. It will but probably slowly.  A good start will be to hoist on board some of the remote networking tips to be fully effective and to make sure your relationships don't suffer.
This involves:
📌 Learning the tech
Learning the complexities of some of the online platforms is a must whether Skype for Business, WebEx, Teams, Zoom or other. My Mum told me that Zoom meetings with her Church have been described as like a séance:
"Is anyone there?
"Can you hear me?"
"Raise your hand if you can see me"
Don't be that person.
📌 Update all profiles
Make sure all your profiles have your name and a recent photo – something semi-professional is always a good idea. You could put your LinkedIn URL or website next to your name.
📌 Dress code
There is a big storm in the social media tea cup about dress code. Definitely, women should not be told to wear makeup and look sexy in online meetings unless men are. If I'm going to an online meeting, I prefer to dress reasonably professionally, otherwise someone might call the emergency services thinking I had COVID. But for me, it also makes a clear personal psychological demarcation between work and life. That is my choice.
If it's a professional meeting I would recommend at least looking business casual. Others suggest that an online leadership presence is vital
Whatever you decide – clothes are a must.
If I'm paying for an event, I expect the hosts to be professional looking. I know. I'm weird like that.
📌 A quiet space is a nice option
Many of us had to adapt existing space and learn to work with partners or a home school in our kitchens. Not everyone has the possibility to create a home office with floor to ceiling bookshelves. We are all much more tolerant of interruptions from pets, kids, partners and delivery people. If at all possible try and have some dedicated quiet space if you can, however small. It's not a big deal if you can't, but it is a nice to have so you can relax.
Eight months in, as a minimum, at least know how to create a virtual background. We have all found the touch up your appearance button on Zoom right?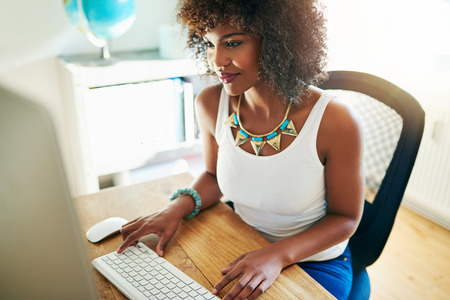 2. Reach out
From the start of COVID I made a point of reaching out to three new people every day. Now I meet people either in larger events, at smaller online focus meetings or individually.
📌 Large events
Many of the big conferences are switching online. In the beginning they were not great as companies coped with a rapid transition, but I can see the levels of sophistication are increasing. It's still a super way to connect with new people, especially if you integrate a few of these remote networking tips. In a large event:
Connect with the organisers beforehand on LinkedIn. If you can, find out who else will be attending.
One of the things I enjoy as much about a large event as the main speakers or panellists, is the breakout rooms. This is where you can network with smaller groups. Ask delegates if you can connect with them afterwards, so it doesn't look creepy. Send a personalized note mentioning the event, your interaction, and their contribution.
Many participants attend events to listen in only – maybe they can't speak or are multi-tasking, so jot down the names of the participants, or take a screen shot or photo so you can follow up if you choose to.
Put your LinkedIn URL in the chat and invite people to connect with you.
Engage actively in the chat, not just with the speakers, but with other participants. Acknowledge someone if they have made a good point.
📌 Smaller groups
 Many people wait for someone else to take the initiative to connect or instigate an online meeting. We are all so busy. So why don't you be the pro-active one? What is the worst thing that can happen? They can say no. Small group discussions can be helpful to gain a better understanding of a new topic as well as forging new relationships.
 Keep the session short and focused with an agenda, so everyone knows they are not going into an online vortex with no end in sight. I was invited to a three hour Zoom meeting the other day and almost had a panic attack
📌 One on one networking 1-1.
I now try to set up some 1-1 in person meetings which is hard as COVID restrictions become tougher and cafés and restaurants are closed in many areas. I now invite anyone who lives nearby and who wants to meet on-line to go for a "net-walk" instead. This is under correct socially distanced conditions, keeping 2 metres apart and wearing a mask. I am fortunate, that I have lots of green open space within easy access. This means I can exercise and meet new connections or catch up with old ones. The only downside is the weather!
Here's a photo from last week's "net-walking" excursion.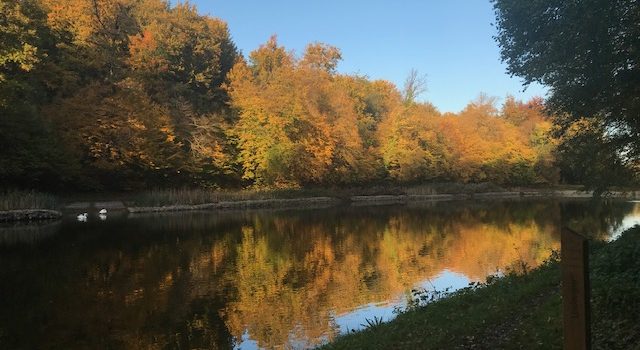 Otherwise it's the Zoom coffee or cocktails both of which are better than not meeting anyone at all.
For corporate employees working remotely, Slack and Teams offer random matching. This allows remote workers to replace chance water cooler encounters with short one-to-one meetings with people they may not know. Ask your organisation to sign up for that add on.
New times, new methods
New circumstances call for new thinking. Rethinking the way, we build and cement relations under new and challenging circumstances is going to be an important part of the way we cope and may be the only way we survive this crisis.
This too will pass, so it's key to prepare the way for a return to the workplace.
Do you need to COVID proof your career? Get in touch NOW