Will me being LinkedOff with LinkedIn make a difference?
I have just cancelled my premium membership to LinkedIn. You could say I'm LinkedOff with LinkedIn and have LinkedOut.
Reduced professionalism
Social media is awash with blogs and posts about the decline of the traditional channels. To cut to the chase, one over arching comment is this. With all the automation, the social has gone out of social. There is one notable exception. LinkedIn is now too social and not professional enough.
LinkedIn has been one of my anchor platforms for many years. As a head hunter it's part of the candidate identification process. In my role as a career coach, I recommend and coach clients on how to leverage it to advance their job search and manage their careers.  To run my business  it was an ideal platform for tapping into great contributions and insights from sector leaders.
I now feel as though I subscribed to the Times or Wall Street Journal and am getting the Sun or National Enquirer. Or worse.
In some cases we are seeing a stream of soft porn images. The image below is a screen shot from my LinkedIn stream today.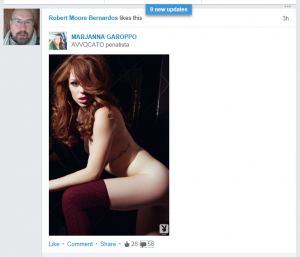 I really only joined Facebook initially to make sure my kids were still alive. But I am seeing a higher level of engagement there. I know there are others who are LinkedOff too.
We're a growing number and LinkedIn need to pay attention.
No barriers to entry
I thought this was great in the early days. Open and democratic in line with the zeitgeist. Now the proliferation of fake profiles and dubious agendas is on the rise, with seemingly no penalties. As a Premium Member I expected all outliers to be taken care of by basic controls at the profile setting up stage. There is no place for a woman's nipples and bum on LinkedIn, or some stud muffin looking for a date. So I will block and report and not connect with anyone who looks doubtful. This means the first letter of your name should be capitalized. That is a dead giveaway. If you refer to yourself as Caspar in your summary but William in your name, there is something not right. But Caspar/William had 500 connections when I sent his profile for review today.
What I know about coding couldn't even be covered on the back of a SIM card – but if dating sites can approve profiles and photos, why can't LinkedIn? Surely this is just some software check? #justsaying Don't men realise that when they share images of scantily clad women their networks can see and some of them maybe reports, peers and bosses.
Business model
LinkedIn is a business and they need to make money. I get that. They need to find ways to generate activity and content so people will buy and use their product. I get that too. They have also spawned a whole industry sector around it.  But my patience is being sorely tested. It is no longer my go-to platform for top level content. Why? Because either there is less top level content, or that content is hard to find.
Generic and bland automated content and spam, gratuitous self-promotion, dubious photos or quizzes are the norm. LinkedIn is morphing into an unregulated platform for people to share whatever they want. There is nothing wrong with that per se, if you are interested in that sort of thing. I just want to be able to filter it out, as you can on other platforms.
The extension of the self-publishing facility, LinkedIn Pulse has become a license to publish … well…anything. Thousands do so with no control over quality or content. Members are posting adverts for jobs and services, plus links to other articles with no content at all. Sorting through updates now takes up too much time. The good content gets lost in all the nonsense I see in my stream. Babies, cars, even women in bikinis, and men liking photos of a woman in transparent black mesh pant suit.
Sure it's ART
There are a huge number of changes and tweaks, presented as improved features. This quote from Henry Havelock Ellis comes to mind: What we call progress is the exchange of one nuisance for another nuisance.
Freedom of choice
I am not suggesting that people shouldn't publish what they want. I just don't want to see it. Just as you can with other platforms. Barbara Safani made a case  that variety of exchange makes up the composition, of any workplace. That is true, but I wouldn't hang out with women in black mesh pant suits or bikinis around a water cooler and I want that option restored on LinkedIn.
I want what I signed up for – professional content.
I want to filter out the stuff I don't want to see and only focus on the content I'm interested in. You can do this with Twitter on Tweetdeck or Hoot Suite and Facebook.
For Premium membership  – I expect a premium service. I wasn't getting it.
Note: Since writing this post I want to be fair and share that I personally have observed a dramatic reduction in "skin pics". I have also noticed a sharper response to issues of inappropriate contact, which is reaching epidemic proportions in my network, especially for women. To date, despite lobbying for tighter controls LinkedIn refuse to engage.
If you want career support and don't know where to start  – get in touch now.