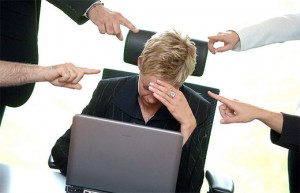 MOBBING  – URBAN DICTIONARY
Bullying, psychological terror or aggression, hostile workplace behavior, workplace trauma, incivility, emotional violence resulting in emotional injury affecting the target's mental and physical health.
Mobbing is an English word, but one I first came across being used by non Anglophones to describe the subtle difference between covert emotional abuse in the work place by a group, from more overt and recognisable bullying,  which can be carried out by individuals.
It manifests itself as "ganging up" by co-workers, superiors or subordinates to force someone out of the workplace through rumour, innuendo, intimidation, humiliation, isolation, undermining and discrediting. The result will be a negative impact on the target's emotional, psychological and physical well-being. It is generally malicious non-sexual, non -racial general harassment.
Mobbing is not an isolated incident or the type conflict or disagreement that often arises in offices which can be moderated. It is not always highly visible although rudeness and shouting can be components. Mobbing is a sustained war of attrition on the target, with  focus on a specific vulnerability to generate malaise and conflict.  It can be employer on employee, coworker on coworker and even subordinate on superior abuse. It can be seen amongst community members and neighbours.
If you are suffering from bullying harassment or mobbing, check out the individual coaching programmes.
Ringer leader
The mob usually has a ringleader who drives the bullying "programme."  Leaders can be both extroverted and introverted, with the latter considered more dangerous, as their actions are under-cover. Sometimes while appearing to be publicly agreeable, they direct others from behind the scenes to perpetrate the "mobbing "  on their behalf.
There are a number of reasons why a person instigates mobbing. It is always associated with their own feelings of insecurity. They might feel threatened by the skills, success, popularity, age or even the appearance of the target. There maybe a Machiavellian component of power seeking. Sometimes more complex clinically identifiable personality disorders are involved.
Bystander syndrome
Ringleaders  engage, manipulate or recruit the rest of the mob to support or carry out mobbing activities. These can range from passing on and carrying out instructions to colleagues or reports,  or circulating vicious rumours or gossip to undermine the target. If the ring leader is senior,  the authority is legitimized. The recruits comply because they fear becoming a target themselves  or they simply get a kick out of seeing other people suffer.  Others are more passive bystanders who  enable the mobbing situation, by failing to take action against it, thus becoming complicit and endorsing it.
If the ring leader is senior,  the authority is legitimized.
One case study
Gabriella works in a small NGO in Brussels. Multi-lingual and highly qualified, with post-graduate certifications in her speciality, she has 20 years' experience running complex international research assignments and teams. In the two years she has been in her position she has become increasingly isolated in her office, with only one of her co-workers willing to talk to her on a daily basis. The office intern has been instructed not to respond to her instructions. Every aspect of her work is micro-managed and despite the size of the office,  all communication is via email, very often aggressive in tone.
The departmental head has downgraded the content of her role and using the office manager as an interlocutor she has been given a series of projects normally associated with entry leve skills. During a client presentation Gabriella was stopped mid-way and replaced in front of the audience by a junior team member who was not familiar with the content. She has been sent to cover conferences not relevant to the activities of the organization and requested to produce lengthy reports to tight deadlines. These reports to date have not been read.
She has no job description or objectives and her requests to discuss the situation and establish her goals with the office manager and senior manager have been ignored. Gabriella's queries on what has been going on have been labelled as a disruptive refusal to co-operate.
Diagnosed with depression, Gabriella went on sick leave today. Should her next step be a lawyer? Can she even prove what has happened?
What do you think?  If you have any similar experiences  please share them.