LinkedIn's new feature with "Homemaker", "Stay-at-home Mom," " Stay-at-home Dad," or "Stay-at-home Parent," are now approved as recognized job descriptions on LinkedIn to avoid employment gaps on your profile. This is supposedly to support anyone who was a COVID casualty and made redundant during the pandemic. The option is especially designed to allow women who are badly hit and were laid off in their millions, to cover their career gaps.
You can add these titles when updating your profile and it will no longer be necessary to select a company after you have checked self-employed. There are a couple of good reasons for doing this.
The algorithms and our wider cultures penalise people with employment gaps. This is a topic for debate.
The algorithm also gives priority to employment entries where the employer carries a logo.
Time to move on
There is something faintly archaic about these terms and we need to consider getting rid of the phrase totally.  It's time to replace them with something real and not reminiscent of 50s suburbia, using language that reflects the value the role creates and adds. I've never been a fan of these gender loaded terms based on outdated stereotypes which under value work not done in a workplace, and those feelings have been heightened during the pandemic.
LinkedIn's new feature  home maker – some additional options
My aim is to provide LinkedIn some serious options to cover non-continuous external workplace experience! We should even stop calling them employment gaps! All of these approaches are dated and have no place in our current lexicons! We need to change our mindsets that a continuous linear career is "better" with an employer, than careers managed in another way. This is going to be part of the future of work as the whole workplace model is changing and accelerated by the pandemic. We are going to see a rise in freelancing and gig working and anyone choosing those paths or forced to by the economy should not be penalized by a social media algorithm.
These are my suggestions:
✅ Home Operations Manager
✅ x role (in line with goals) Family Dalton
✅ Educational and Facilities Manager
✅ Chief Domestic Officer
✅ Crisis Manager
✅ Young/(older) Life Nurturer
Input from other career specialists
My fellow career colleagues added the following on Twitter and LinkedIn This is what they came up with:
Sarah Johnston – Tie into future goals – maybe Domestic Project Manager if Project Management is your goal
Laura Shields – Full time parent or Domestic Engineer or Head of Domestic Dispute Resolution
Donna Svei, Executive Resume Writer Svei – Full-Time Parent  – she also recommends being strategic about identifying and articulating responsibilities that tie into future career goals
Sweta Regmi, Career Consultant – Home Operations Manager – Escalation Manager
Lisa Rangel Work at Home Parent or Full-Time Family Caretaker
Matt Jones – Chief Everything Officer
Kevin D. Turner advocates for leaving options open and avoiding gender specific titles to choose that may help them to achieve a pivot in the future, if that is what they are looking to do. he also adds " Why not instead set up a LinkedIn Page, formerly known as a Business Page, like The Dalton Foundation, Turner Family Trust, or Family & Co. and then associate your chosen Title?"
Richard Cross  came up with Head of disruptive innovation!
Chris Wilson had a whole range of suggestions!  Project Manager and Coordinator, Logistics and Operations manager, HR Manager, Special Projects, Employee Engagement and Health and Wellness, Business Administrations or Business Development Manager
Divya Gaikwad favours Chief Family Administrator while Lisa Bessen adds Chief Education Officer  
There are still some that prefer the traditional approach. Sonal Bahl comes out strongly against these proposals  "As much as I don't like SAHM and SAHD, I don't like fancy titles like Chief Household Officer or Domestic Operations Head. Reminds me of Marketing Ninja and Chief Happiness Officer (sic). I like 'full time parent' or 'full time care giver'. Clear and understood."
For all the brilliant suggestions check out all the suggestions on my LinkedIn feed 
What about skills?
The skills required for "domestic operations" or "household project management" are no different to those required in the workplace. It's just that we don't assign the same value to them because we associate them with traditional female areas of activity.
Research shows that men opting for greater flexibility in the workplace are also being penalised.  We see a whole generation of men who want a different  approach to their careers and couples who want to share the load and widen their horizons. As workplace cultures become more inclusive and "human" to foster "belonging,"  perhaps we are finally seeing a shift.
Skills: 
These are just a few suggestions I have added to a profile – you can add your own. There are lots of gaps in my offering because the scope of the role is so wide. For generations the skills required to carry out the responsibilities have not been correctly valued or articulated. When we apply workplace vocabulary the reality of what is involved is more impactful.
This is not to undermine traditional titles, but to suggest that they do not convey the full scope of what is involved, which is why they have been assigned a lower status over a long period. This where adding key words in line with your next step goals is important and you can slip those in around the job content.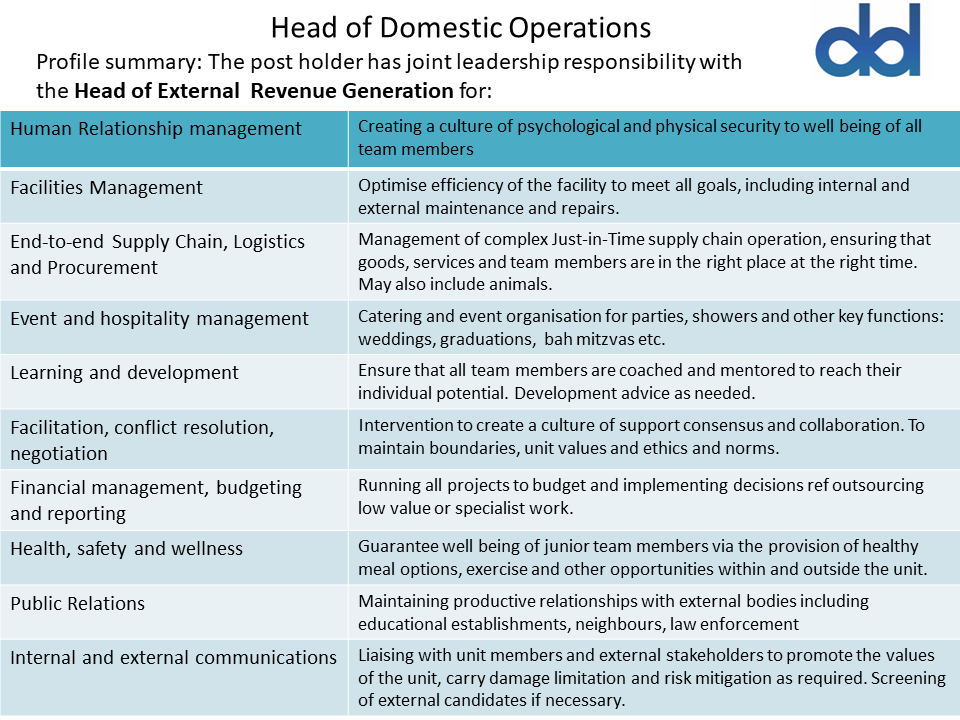 It's time to flick the mindset switch and place the correct value on long under appreciated roles.
If you need support handling a post COVID career transition -get in touch NOW!