It's estimated that there are 3 billion people globally in some sort of lockdown or mandatory confinement. Some countries have imposed strict curfews and restrictions, but most have some sort of stay at home policy. HR leaders the world over are trying to handle the crisis. Overriding concerns are how to manage their organisations during the disruption, protect the longer term sustainability of their business in a period of zero revenue for most, as well as the health and wellbeing of their workforces.
As a number of countries feel that the curve is being flattened, plans are being drawn up for a planned exit strategy and putting forward plans for our post Covid19 workplaces, during what has been suggested will be the biggest recession in history. The IMF has projected that the global economy will shrink by at least 3%.
Key Questions
The forced remote working arrangement is raising some key questions which are going to have far-reaching and long-term consequences not just for business but our wider culture. These questions are typically centred around:
Which roles are essential for the business and contribute to P & L. That also raises the question which roles are not doing this and makes them vulnerable in future organisation charts.
What processes have been shown to be unnecessary and can be streamlined or dropped altogether?
Can more people work from home? Organisations have seen how jobs they didn't think could be carried out remotely successfully switched. In some ways this has been a huge bonus overcoming the stigma attached to flex working. It will also help reduce overheads, but could cause other knock on effects on the business real estate sector and other enterprises that service them. What if people don't want to work from home? Maybe they don't have the space. Some will welcome this – but many won't. Read my post: WFM Post Covid19 is about intention. Be careful what you wish for.  
Two Tier Employment Structure
Other questions will focus on how we change workforce structure and organisation. But despite all the lockdown navel gazing, I looked at this infographic from McKinsey included in their COVID19 Briefing  and wondered if anything will be truly any different in our post COVID19 workplaces? The focus as always seems to be on disposability, masquerading as agility. We have seen what has happened with the gig economy which went from being nice-to-have flexibility to outright exploitation for large numbers, with far-reaching impact for those trapped in it.
In two potential scenarios a two tier workplace will be embedded even further. The "ins" and "outs," the "us" and "them." Those with access to full-time permanent employment, with all the benefits that implies, and those who will be gig workers. It is almost dystopian.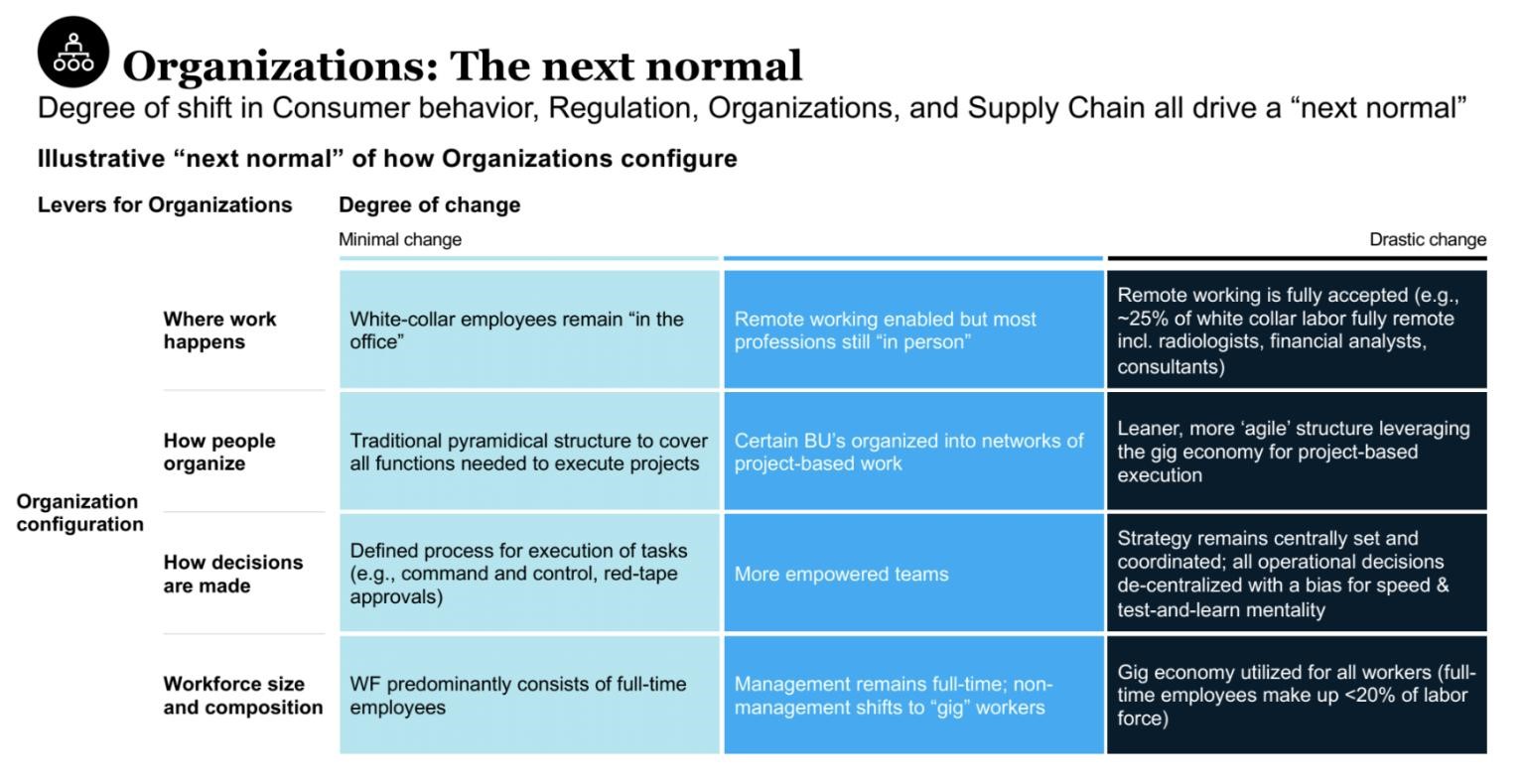 Questions not asked  – leadership style
With the focus on "agility" and "lean," plus command and control central leadership, there seems to be nothing in these projections around leadership style. One of the things that has emerged during this crisis is that balanced leadership styles are producing better results.
The number of women leaders cited as noteworthy is significant: Angela Merkel, Sophie Wilmès, Jacinda Ardern, Zuzana Čaputová, the President of Slovakia,Erna Solberg PM of Norway, Sanna Marin PM of Finland. Men such as Leo Varadkar in The Republic of Ireland and Girogi Gori, the Mayor of Bergamo, who are exhibiting these more collaborative characteristics are also emerging as strong balanced leaders.
So why don't we see mention of this is our future workplace scenarios?  In a post from Rick Zedník "A shaken world demands balanced leadership" he identifies three leadership characteristics which we should be looking for in our post COVID19 workplace:
more collective than individual
more collaborative than competitive
more coaching than commanding
We have to make sure that consultancies and think tanks, which are male dominated and male coded in culture, aren't the only ones defining our post COVID19 workplaces.
Get in touch for your hiring needs.