Have prolonged recessions and a global pandemic  softened hiring managers' attitude to periods of unemployment and a CV gap?  Perhaps not…
History repeating itself
In December 2008, I was walking through an eerily deserted Canary Wharf in London. It should have been one of the  busiest shopping weeks of the year, but the full impact of the banking crisis was being felt so the shops were empty with up to 75% price cuts in many. The worst fears of the financial pundits were yet to materialise as many in non-related sectors were sucked in to one of the biggest economic downturns  for 80 years, generating a massive global domino effect on employment.
12 years later I walked through Brussels airport which was equally deserted as they world was gripped in a global pandemic.
In between we had any number of mini recessions and layoffs causing periods of unemployment.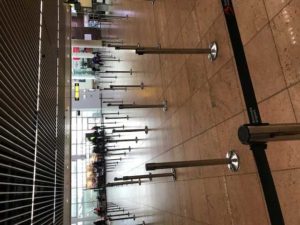 Has anything changed?
In between times we have come to learn about unemployment bias. LinkedIn invented the green "Open to Work" circle which has generated acres of commentary.  But has the scale of these calamities changed the views of hiring managers to the plight of candidates who have been unemployed for a period?  Anything over 9 months is considered long-term unemployment.
I talked to a group of people who have shared their perceptions down the line as they handled the issue of a CV gap.
 Michael – Arts graduate June 2009,  U.K.
"Instead of a feeling of achievement and elation the whole class was anxious. All through our final year we had seen the economy tank and prospects looked grim. Only one of our class mates had a job and that was with his father's advertising agency. I did 3 unpaid internships in a row in galleries and agencies supported by my parents. I finally got a job in a start-up but the conditions were border-line exploitive and the manager was a bully.  I'm now working in a fast food restaurant as an Assistant Manager and although I'm acquiring great skills (I manage a team of 8 and deal with all the HR issues)
I still get comments that it's not a "proper job" when I go for interviews in my field and struggle to account for my "career" choices.  Portfolio careers seem to be more talked about in the press than in the real world! So although I'm not unemployed  – I may well have been. I don't think there is that much sympathy. Work ethic doesn't seem to count for much".
Béatrice – Recruitment  Manager, France
"I was delighted to get pregnant with my second child born in August 2021. When I returned from maternity leave in 2022 there had been a hiring freeze because of the pandemic and a forecasted recession. The department cut by half and completely re-organised. My old job had been re-distributed, with the only role remaining a junior administrative job.
I accepted a redundancy offer and am unemployed. Explaining that period is very difficult in interviews even now,  especially when it follows maternity leave. People in jobs forget really quickly that unemployment is around 8% in France and is still a huge problem.
Having to explain a CV gap is challenging"
Do you need help explaining a CV gap? Check out the individual coaching programmes. 
Ricardo – ex Marketing Director, Italy
"I had a successful career in marketing and brand management in the fmcg sector. In 2019 I was head hunted to lead a team in an SME company supplying the hospitality industry which gave me a place on the management committee. I started in June 2019, but by April 2020 the marketing budget was slashed to zero as the order pipeline dried up and I was made redundant.
Initially I tapped into my network and was able to go for interviews, but although I was shortlisted I was never selected. The feedback was that it was related to salary and that I was too expensive and over qualified. I tried down grading both my salary and CV – that didn't work either. I slipped into depression and struggled to find the motivation to face the  world. In three years the only work I have done is small consulting projects. I am divorced and wanted to stay in Italy to be near my children but am now internationally mobile.  I seriously worry that I may never work in the corporate world again."
My own observation is that "copy-paste" hiring is  still generally the preferred selection process for many companies. In a supply led market the harsh reality is that most hiring managers have a huge choice of candidates and easier access to them. Although it's important how  candidates present how they used that time effectively.
But the reality is recruiters and hiring managers need to manage their biases.
What advice would you give?
Need career transition advice – get in touch NOW
Note: updated 2014, 2023