Fresh back from HRtechWorld in Paris, I am trying to work out the best way of managing the messages for HR which were at times complex and conflicting. The over-riding theme of any tech conference is clearly the tech. The conference/expo central area literally hums with the vibe of complete confidence in our futures. They have it covered. No question. The pace of change is palpable as new apps, games and processes being designed by the brightest and best in tech companies are shared with an enthusiasm which is hard to beat.
In the Disrupt HR section newcomers and hopefuls pitch for the €15,000 cheque under Faye Hollands watchful eye. Read her blog posts on that process.
In the Influencers stream where I spent most of my time, Jean-François Manzoni, President of IMD, put the current pace of change into perspective on the Influencers stage. "Change in 30 linear steps is 30 metres. 30 exponential steps is a billion metres, which translates into more than 20 times around the world. "  Leighanne Levensaler, SVP Products at work day confirmed that "change was coming whether we liked it or were even ready for it" in her session.  Costas Markides on the main stage showed us exactly how unprepared for change most organisations are.
Mixed and sombre
Here, on the main stages the messages were more than slightly mixed and definitely more sombre. The recurring rallying call was the usual "putting the human back into HR" with employee engagement still way down in  the doldrums. To Gary Hamel's exuberant point, we need to unclog our organisational arteries of bureaucracy to empower employees and increase engagement.
He goes onto say that "people turn up to work physically, but leave their humanity at home"  which is always a problem when you want to put the human back into the workplace. He suggests that organisations are suffering from ambition deficit disorder which he calls #bureausclerosis.
His call was for all to become organisational intrapreneurs and to rail against bureaucracy; He illustrated his point with a story of crowd sourced grass-roots initiative within the NHS, to improve patient care, without a sign off form in sight. Within 3 years the movement had reached 800,000 people. He also talked about the cost effectiveness of getting rid of the bureaucratic infrastructures which are sapping our organisations of their energy.
"Eradicating that bureaucratic overhead would save the OECD $9 trillion and more than double productivity within a decade"
Future of work
Josh Bersin developed this line of thinking further. 92% of organisations are not structured efficiently and he believes we need a  shift from linear organisations to systems where individuals have an opportunity to become more entrepreneurial to move forward. An ideal model is an environment where people thrive as part of a network of interlocking teams with shared values and culture, transparency and rewards based on skills rather than position. Although hedging his bets about future trends, he felt the next generation of software would be focused on health and wellness.
It's not them – it's us
I'm loving all of this, until I attend the sessions of Jean-Francois Manzoni and Costas Markides.  Here the conflicting signals were strong and unequivocal to make managing the messages even more complicated.The greatest challenge to effecting real change is not the tech. It's people and their behaviour. It's us.
In an interview with Thinkers 50  Costas said:
Business today must deal not only with marketplace competition but also with a severe economic downturn and companies failing due to excessive greed and corruption. I would like to see a change of orientation about the role of business in society and more emphasis on underlying values.
Set against this background, it is hardly surprising that we struggle to change our behaviour and then sustain that change.  All evidence suggests that not only are we resistant to change in the first place, but according to Costas, 90% of us back slide within 6 months to our default learned and biased settings.  If that wasn't enough, we all over-estimate our own capabilities and sense of integrity. So managing the messages in HR and the doing something about them, is never going to be easy, especially as Jean-François suggests:
We under-estimate our own biases. We think we are better than we are. #confirmationbias #hrtechworld

— Dorothy Dalton (@DorothyDalton) October 25, 2016
Reshaping behaviour for enough people, for long enough, requires triggering enough levers to send a coherent and powerful signal to reshape the culture of an organisation. This is a top down process. Problems are further compounded by organisations only responding to change when they are in crisis says Costas, with everyone assuming "someone else" is dealing with any response to external shifts. Given that cultural change can take as long as 20 years, many organisations are predestined to lurch from one short-term crisis to the next.
Read: A big danger for big data  – the human element
Gender Balance in Tech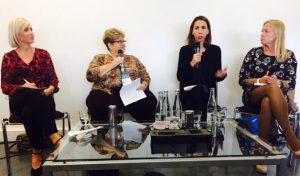 This has been apparent to me for some time. Nowhere is it more evident than in the case for gender balance in organisations. Kim Wylie Change and Transformation Lead at Google, facilitating the Women in Tech panel segment, gave some disturbing statistics. Empirical data overwhelmingly supports the value of diverse teams. Yet we're still not effecting those changes that makes this possible, culturally or organizationally. It seems crazy to ignore that data. But we do. Costas says this is because we need emotional rather than rational imperatives to push us to adapt. The business case is simply not working.
Emotional urgency needed to bring about change Costas Markides #hrtechworld

— Dorothy Dalton (@DorothyDalton) October 26, 2016
Many of these points were neatly and soberingly brought together by Daniel Thorniley, an authority on global emerging markets. Served with a side dish of black humour, his projection was that the present recession,  which he described as chronic and the worst since 1933, will persist for another 5 years or even longer. Austerity has debased the value of wages in real terms to all time historical lows. This is one stat I tweeted. 
Real wages after inflation lowest since 1348 in UK. ?? Daniel Thorniley #hrtechworld

— Dorothy Dalton (@DorothyDalton) October 25, 2016
The polarisation of rewards to favour a tiny minority and resistance to globalisation, is producing a populist backlash. As people struggle to maintain a decent standard of living they are becoming protectionist and inward looking, reacting negatively to immigration.  Agile organisations and platform companies are creating the gig economy which favours employers, are met with scepticism by both Jean-François Manzoni and Daniel Thorniley. Increasing swathes of the population struggle with economic insecurity and instability.
Daniel's final point and the conference footnote, and also the final conflicting message, was that moving forward out of these difficult times will require steadfast input from HR practitioners. How HR will sustain that, will be the real challenge going forward. Managing the messages for HR is not going to be a breeze.  But the result is that process innovation on the technology side will not be as effective if the people running and using them don't change and advance too.
This tweet which went through my stream from @HRCurator resonated:
RT @kevincharef: @Atlassian "a fool with a tool is still a fool" #hrtechworld pic.twitter.com/mNrcQniio8